Mumsnet Blogfest 2012 – Inspiration and Friendship
I flew to London this weekend to attend the Mumsnet Blogfest. Parenting website Mumsnet had assembled a speakers list which was as dazzling as it was varied. Miriam Gonzales Durantez, Prof Tanya Byron, Zoe Margolis, Caitlin Moran, Susanne Moore, Zoe Williams… and many more.
The best piece of advice was by Caitlin Moran who said if you are not sure how to end your article cut and paste the second paragraph, which meant that I am continuing to write this article about 30 hours after I started it because I started to worry about how to end my article with this paragraph. So, thanks for that Caitlin.
The Blogfest was kicked off by Miriam Gonzales Durantez, who started by expressing her 'monumental debt of gratitude' for the support she received on Mumsnet when she made it clear that she would help her husband politically, but that she would not change her identity or her life, or more importantly her children's lives.
'Your reaction and your support helped me more than you could possibly know'
Finding your voice – Zoe Williams, Rachel Cusk, Zoe Strimpel, Gaby Wood – Chair, and Google+ Hangout with The Bloggess
The journalists Zoe Williams and Zoe Strimpel, and writer Racheal Cusk were in London, while blogger Jenny Lawson, better known as TheBloggess joined in via Google+ videolink from Texas. It was 4am in Texas but Jenny was bright and cheery, wearing PJs, make-up and, at times, a cat.
I have written at length about this session here but in the main advice that I have take from this session was:
–       There is no such thing as oversharing, as long as you stick to the boundaries you have set yourself
–       Speak to your family about how much you are willing to reveal about your, and their lives
–       Don't over-edit. Press publish. Quickly.
–       Try to balance motherhood and writing, and don't try to be perfect in everything you do
–       Hold yourself to higher standards
–       Control your audience – get friendly people on your side by emailing friends or using facebook, build confidence and believe in what you are writing
–       Think about how much is you, and how much you want to share
–       Write about yourself and your life first, tell your story
–       Move away from confessional writing, regardless how tempting it is to use professional experience
The eagle-eyed will have noticed that this contains conflicting advice, which of course is normal when you ask four people for their writing tips.
After the panel discussion, we retired to the 28th floor to eat delicious cupcakes from Beverly Hills Bakery and check out the stalls from the sponsors,  Boden, Skoda, Google and Nintendo,  and associate partners Mama Mio, Savoo, The Portland Hospital and Innocent.
Fight or flight? Dealing with detractors and tackling trolls – Prof Tanya Byron,Cath Elliott, Suzanne Moore, Liz Fraser, Eleanor Mills.
Eleanor Mills was chair of the panel and asked the journalists how they deal with trolls. Find the long version of my notes on this discussion here. This is what I learned:
–       Don't feed the troll
–       If the Daily Mail are writing nasty things about you, you are doing something right
–       Ignore and if possible block the troll from commenting
–       Keep a paper trail – don't delete messages without saving them in a document so that if the abuse escalates, you have evidence of this
–       Only go to the police as a last resort, or if you feel threatened
–       If you do go to the police, ask for the Computer Crimes Division, as they are experienced in this area
I asked a question on Facebook and Twitter for pre-teens and teens, and was pleased that the response to limit the use of Social Media, and to speak to children about the necessity of being cautious of what they post online.  This is in line with what I have written on Jump! Mag, but good to hear it confirmed.
After a quick stop at the BlogClinic, where I gave (hopefully useful) advice to a variety of bloggers on Social Media and Twitter, it was back upstairs for the panel discussion in which I took part.
Blogging can change the world – Natasha Walter, Holly Baxter (Vagenda),Lynn Schreiber (Salt and Caramel), Naomi McAulliffe (Amnesty UK), Stella Creasy MP, Rosie Childs – Chair
I was very pleased to be asked to speak at this session, particularly with such great panellists. The basic consensus was that blogging alone cannot change the world, but that it can help to raise awareness as part of a movement for change.
Great practical advice for anyone who wishes to involve their MP came from Stella Creasy, who said 'tell your MP what you expect of them'. Don't just tell them that you are unhappy with the status quo, let them know what a good resolution would be.
As always, after such an event, I realised that I had forgotten to make an important point, in my attempt to be brief and not waffle on too long.
A short break to slurp tea and search for cake then it was a mad rush to get downstairs to the Keynote Panel Discussion
Private Lives on a Public Stage: how much should you reveal online?
Liz Jones, Zoe Margolis, Eliza Gray, Tim Dowling, Geraldine Bedell  – Chair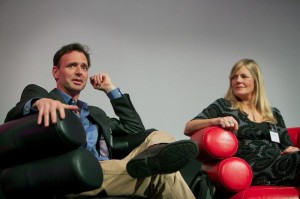 What shall I say? So many others have written about this session, so I will only say this. Zoe, Tim and Eliza were great, and deserved to have more attention paid to them than they did. Tim's comments about only being able to write about his life when things are going well, and Eliza's explanation of how her daughter accepts, and even revels in Eliza's blog were interesting. Zoe was funny and open when talking about what it is like to be exposed (no pun intended) as a blogger who wrote VERY frankly about her sex life.
It was all rather overshadowed by a Liz Jones. A sad and strangely vulnerable figure, wearing designer clothes and an air of fragility, she was very different to what I had expected. She regretted everything she had ever written, was shunned by family and friends, even to the extent that her family hesitated to tell her of her father's death as she would write about it.
She was unrepentant as she talked about the thought of 'this will make a great two part column' when her husband left her, and that her friends have to tell her not to write about them. She admitted that she had closed herself off from her emotions. I am not sure she feels emotions other than distaste for those she thinks are beneath her.
I found her a tragic figure of The Ghost of Blogging Future – a spectre of what could be if I were to fall into the trap of confessional blogging.
I am not going to say more, because the day was too joyous to be dragged down by this one person, and her resulting article in the Daily Mail.
Thankfully we were to be cheered up by the arrival of the last speaker of the day.
Caitlin Moran was like a toddler on speed. She bounced onto the stage, wearing denim shorts and a red checked shirt, her trademark badger hair tumbling about her animated face.
I was expecting a lot of fun, some risqué jokes but was seriously impressed when we got that, and a whole lot more. In between a story about meeting Sam Cam on a train, and fellating the microphone, Caitlin flung out loads of great writing tips.
–       Don't force yourself to voice an opinion
–       When you write something down, it matters more, so don't be nasty
–       The end of snark is coming
–       Ask yourself, 'Why is this a story? Why am I writing this?
–       The aforementioned second paragraph trick, which doesn't seem to work when you spend too much time worrying about your second paragraph, but has been filed away for another blog post
–       Take your time to let an article build in your mind, let it stew while you gather your thoughts. Which is why I didn't rush to write this blog post yesterday, but took a day to process what I had seen and heard
Once she had finished, to resounding applause, we retired to the 28th floor (or was it the 29th?) to celebrate surviving the first Mumsnet Blogfest.
I met Twitter and Mumsnet friends who I have been conversing with for years, and was inspired by the wise panellists and speakers.
I talked to established bloggers, new bloggers and those who weren't even blogging yet.
I chatted to charity workers and activists about feminism for hours over probably too many glasses of bubbly and then red wine while we tried to work out what was in the hors d'oeuvres that were being passed around (they are called arancini, btw – the little fried rice balls).
Mumsnet pulled it off. CEO Justine Roberts and her brilliant team are to be praised for organising a spectacular event that deserves to be remembered for the inspiring speakers, and for the friendships formed, and not for the response of one troubled woman to a group of women she never has, and never will understand.