You may be thinking, 'What on EARTH is a wristlet bag?' and until a few months ago, I would have asked the same thing.
A wristlet is a small clutch bag with a wrist strap. Something like this:
I don't know about you, but a 'clutch bag' always made me think of the kind of bag that my Mum would buy for going to a wedding in the early 80s, with a little golden chain, in a matching colour to her pill box hat with the veil. I never liked clutch bags, because unless they have a silly gold chain, you are always left with the dilemma of where to put it when you want to do something. It seems to defeat the purpose of putting all your stuff into a bag to free up your hands, if you then have to carry the blooming thing. Or stick it in your sweaty armpit.
That is where the Wristlet comes in, as they have added a natty little wrist strap so that you can dangle the bag from your wrist. Clever.
The bags generally have a pocket for cash and slots for cash and credit cards. Depending on the size of the bag, you can store a mobile phone, lipstick and perhaps a pair of sunglasses. The wrist strap frees up your hands if you need to carry a cup of coffee, or grab a child's hand.
They are obviously not going to do the job if you still have very young children, as they would laugh in the face of all the galumph that you need to carry around when you have a toddler. Now that my kids are older, I love that I can grab my keys and my purse and head out without stashing nappies, wipes, drinks and about half the household in a huge bag.
An American friend of mine has several, which I have always secretly coveted, so I started looking for one when we moved back to UK.
Not as easy as you might think. I found the above bag at the airport, and have since had a look online to find others.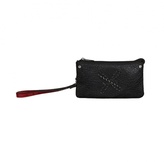 This brown one from Fossil looks good and would be very versatile. There are other colours available on Amazon.
Finding them in the shops may be tricky, but a quick google revealed that they are already becoming more popular in Europe. Fiorelli, Fossil and of course the good old American Coach make great little Wristlets. 
What do you think? Would you buy one? Or do you have one already and can give some tips on finding them in UK?