Chicken Pie with Potato and Celeriac Topping
This is an adaptation to my Chicken Pot Pie recipe. It tasted so good, I thought I would share it with you.   Parboil potatoes – 3 or 4 middle-sized ones will do – and boil them in salted water for about 10 mins. Let them cool while you prepare the chicken as in recipe above. Thinly slice potatoes and large celeriac, then layer them on top of chicken.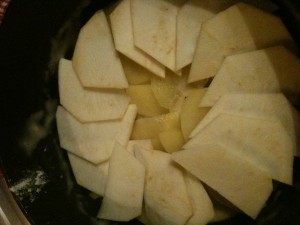 Cover with fresh thyme and grated cheese then bake in oven as normal for about 40 mins.