Review of Book and Recipe Jenny Colgan – Meet Me At The Cupcake Café
Right. Before you start reading, get eggs and butter out of the fridge and switch your oven on. By the time you finish reading this review you will be ready to bake.
The Jenny Colgan book "Meet Me At The Cupcake Café" tells the story of Issy, a hobby baker who works for an Estate agency. Issy is involved with her boss, Graeme – who is the typical Estate Agent (apologies to pleasant Estate Agents, I am sure they are not all filled with ambition and avarice). When the company is forced by the economic downturn to make several employees redundant, Issy is horrified to be one of the unfortunate and upset that Graeme neither protected nor warned her of the coming shock.
Retreating into her flat, she wallows in self-pity for a while before she is forced by her wonderful flat mate Helena to get up and do something. By coincidence, she discovers that a local property is available for rent and slowly realises that this could be the answer to her problems. Setting up a business is scary for Issy but she has the support of Helena, and her grandfather.
Her grandfather was once the proud owner of several bakeries but now suffers from Alzheimers and resides in a care home; as the book progresses we see his health gradually deteriorate. Sometimes he does not recall who Issy is but when he is well he writes and sends recipes to his granddaughter; recipes filled with affection and humour that hint of his former self.
The recipes are a theme throughout the book, recipes from her grandfather, recipes from Helena, from Issy herself. They are written "in character", which adds to the appeal of the book.
The story proceeds, with twists and turns as Issy and Helena, along with others we meet along the way, deal with disappointments and heartbreak, overcome difficulties and eventually find happiness and love.
I really enjoyed this funny and touching book. The characters are well thought out, the background well researched. Jenny Colgan has a knack of grabbing the reader right at the start of the book and drawing one into the story. I could not wait to see what happened next, and felt almost sad when the book drew to a satisfactory end.
So if you are looking for a good read, perfect for the beach or reading in a café give it a go. You can download it for your Kindle (or Kindle app for iPhone/iPad/Android phone) here
Now to the recipe. I tried the Vanilla Cupcake recipe that is included in the back of the book and added blueberries. The recipe was easy to follow and contains a few great tips such as the above mentioned ingredients at room temperature, and beating the sugar and butter until light and fluffy – both new to me and this is not my first cake recipe. Perhaps a lot of recipes don't mention these, thinking that people already know this but they can make the difference between decent cupcakes and really fab ones.
Ingredients:
For the Cupcakes:
125g unsalted butter, at room temperature
125g caster sugar
2 large eggs, at room temperature
125g self-raising flour, sifted
2 tsp vanilla extract (not essence)
2 tbsp milk
For the Buttercream
250g icing sugar, sifted
1tsp vanilla extract
splash of milk – start with a tablespoon and gradually add more
Preheat the oven to 190°C / Fan oven 170° / Gas mark 5
Line a cupcake pan with paper cases. This recipe makes 12 cupcakes.
Beat the sugar and butter together until they are smooth, fluffy and pale. This will take several minutes, even with soft butter. Add the egg, flour, vanilla and milk and beat until smooth. You are looking for "dropping consistency" – ie. when you take a spoonful of mixture and gently tap the spoon, the mixture will drop off.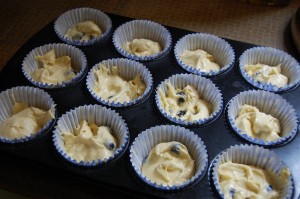 Spoon into paper cases and bake for about 12 minutes. Check if done by inserting a skewer – if it comes out clean the cakes are ready. Take out of oven and immediately tip out onto a wire rack, or they will continue to cook in the tin.
Next is the buttercream icing. Beat the butter in a bowl until very soft. Add the icing sugar and beat till light and fluffy. Keep mixing until butter and sugar are combined and smooth. The best test for this is to place a small amount onto your tongue and press it up against the roof of your mouth. If it feels gritty, it needs more beating.
Pipe or spread the icing onto the cooled cupcakes and decorate as you please.

The recipe worked really well. The cakes were light and fluffy, the icing was divine – definitely a recipe I will use again.