Social Benefits of The Internet – LondonCyber Conference
Do you remember the years before the internet? When we had to look up telephone books and encyclopaedias for information. When we used maps – real proper paper maps – to find the way to a friend's house. When we had to estimate how long it would take us to get there, and look up bus timetables that were kept in a box under the stairs?
If I were to tell my 9 year old daughter that I used to have to limit my phone calls to my parents in Scotland to once a week, as the international phone calls were so expensive, she would likely ask why we didn't just Skype with Granny.
She recently bought herself a computer, and one of the things that the computer had to have was Skype. For our children, it is such a natural thing, using the internet. When she was unsure of the meaning of a French word when doing her homework, she pulled out her little netbook and checked on Google Translate. I didn't even know that she knew how to find Google Translate, but there she was using it.
She isn't yet using Facebook, or any other Social Media website, but she knows about them and asks me to put photos on Facebook so that Granny can see them. Or she uses KiK app on my old iPhone to send the photo to Granny herself. A far cry from the day when my husband left the hospital after the birth of our daughter, rushed to the photography lab to have the non-digital pictures printed and put on a disk, then hotfooted it to the Internet Cafe to send the first photos of our baby to my family in Scotland.
By the time our son was born two years later, we were able to send a picture message via our mobile phones (I think). My first camera phone was a Sony Erikson one that came with a clip on camera. How old-fashioned and clunky it looks now, but it is only about 7 years old.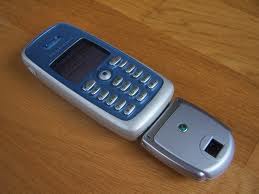 When we moved to Hannover, we did not have a computer at home. I spent the first weeks driving around, looking for DIY stores, searching for doctors by looking up the telephone book, occasionally borrowing my husband's company laptop to search for something. I remember when I bought my own computer – the freedom it gave me! Being able to communicate with friends and family back home, being able to search for something in the town in which we lived, then when we were due to move to Düsseldorf, finding the information about that city at the click of a mouse.
At some point in this time, I believe it was not long after we moved to Düsseldorf, I discovered online fora. The website Mumsnet opened up a new world for me, helping me to talk through issues I had with parenting, offering companionship and a bit of a giggle in a time where I still struggled to make new RL friends.
Suddenly I was no longer an expat, cut off from popular culture, looking blankly at my friends at home in Scotland when they joked about a new TV show. I was no longer reliant on the weekly journey to the train station to buy the Sunday Times, but could read a variety of newspapers from the comfort of the breakfast table. And then I could discuss the news that I had read on Mumsnet, and then later on Twitter.
Without the internet, life as an expat would be so much more isolating. Particularly for those who are not the type to join clubs, or meet other "Trailing Spouses" for lunch, the internet is a lifeline, enabling them to chat to friends, keep contact with those back home via Facebook, or even to write a blog.
It is important to know when to switch the computer off and go and have coffee with real friends. For a shy expat, it can be tempting to hide at home behind the computer screen where there is companionship at the touch of a button, any time of the day and night. I recognise the irony of writing this at 11.30pm on a Sunday evening, by the way.
Saying that, some of my closet friends are those I met online. A group of English Speakers in Germany, seeking chat and companionship. Native speakers and non-native speakers alike, sharing stories and experiences, supporting each other in bad times, and celebrating good times. We have had meetings in Düsseldorf and in Geneva, Hamburg and Frankfurt. One of them spent a weekend in Scotland with me last summer, and we had such a great holiday together. Without the internet I would never have met these wonderful women and I look forward to seeing them in person again soon.
They will hopefully remember the Pomelo Days.
Can online friends replace RL friends? No, but online friends can become RL friends.
This week the London Conference on Cyberspace will debate the challenges and benefits of the internet. You can follow them on Twitter  @londoncyber and use the hashtag #londoncyber to find out what others have to say about the future of digital life. Mumsnet Bloggers will be there to discuss the social benefits of the internet, and have asked bloggers to write about this topic.