This was adapted from a Jamie Oliver's recipe, in the Ministry Of Food book.
I blogged recently about the E Coli outbreak in Germany, and my decision to start buying local food. Next week I shall receive my first veg box from the farmer behind the hedge. Until then, I have been going down to the village where he has a little stall with an honesty box to buy my veg. I must take a photo next time I go past, it is very sweet.
Today, I bought a bag of fresh spinach, a lollo rosso salad, a massive courgette and some spring onions. The quality was very high, all the products offered looked fresh and appetizing.
I love the taste of spinach with salmon so decided to make something with these ingredients as I had some smoked salmon in the fridge. Flicking through my recipe books, I came across the Salmon en Croûte recipe which I adapted. It is not the first time I have made a salmon/puff pasty recipe. One of my favourite last minute meals is the Hairy Bikers inspired Quick Salmon Coulibiac with rice and spinach.
Tonight I had slices of salmon, not salmon filet and fancied something a little lighter. Here is what I came up with.
Preheat the oven to 180°C. Wash the spinach, slice mushrooms and roll out puff pastry (I used ready rolled puff pastry because life is too short to make my own pastry). Put a good handful of spinach on the puff pastry. Don't skimp on the spinach, it will sink down in the oven.
Squeeze a bit of lemon juice and drizzle some olive oil onto the spinach, before layering salmon slices, mushrooms, cherry tomatoes and finally some mozzarella cheese. Season with salt and pepper, fold the sides of the pastry in and pop in the oven. Bake for 20 – 30 minutes until the pastry is browned. Cooking times will vary depending on your oven.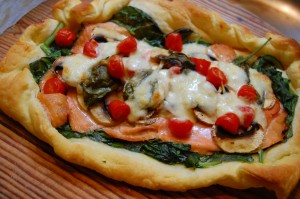 Ingredients:
Packet of puff pastry
5 or 6 slices of smoked salmon
Couple of handfuls of fresh spinach
3 or 4 mushrooms, sliced
Squirt of lemon juice
Splash of olive oil
Handful of cherry tomatoes, halved
Mozzarella cheese
Prep time: 5 – 10 mins. Cooking time: 20 – 30 minutes.