The Secrets of Munich – Off The Tourist Trail
It was a spontaneous decision.
We were in Munich flat-hunting and were ready to head back to Geneva.
"Shall we have lunch before we drive home?", my husband asked.
"Sure, why not. How about we have a look in Schwabing and see if a restaurant or café catches our eye?".
Schwabing is the cool, happening place in Munich. The place where everyone wants to live, in one of the stately town houses, whose ground floors are home to designer boutiques, cafés, and bars.
While the foreign tourists scour the city centre for souvenirs, and get squashed and deafened in the Hofbräuhaus, the locals sit it out in Schwabing or amble through the Englische Garten, (watch out for the FKK – the naked sunbathers) the massive park in the centre of Munich.
If you go to Munich, stay away from the tourist traps and find the true Herzen, the heart, of the city.
My first visit to Munich is almost twenty years past, when my then new boyfriend took me to the city in which he had lived for several years. We walked for hours, from the Sendlinger Tor to the Tal, from Englischer Garten to the Friedensengel – Munich is a city ready to be discovered on foot. If you do get tired, then pull out a map and search for the nearest U Bahn station – the underground railway that snakes under Munich's streets. I will share some of those first  and subsequent discoveries – as ever my suggestions are light on the cultural highlights, which you can find in any travel guide. These are shopping and lifestyle tips, with some restaurant suggestions thrown in.
No day trip to the capital city of Bavaria is complete without a browse through Dallmayer , a Munich institution, known all over Germany via their TV adverts. Think Downton Abbey crossed with Harrods, with smart salespersons in starched aprons, the scent of freshly ground coffee mingling with aroma of fine teas. Munich's Schicki-Mickis (as the chic locals are called, somewhat disparagingly) sip champagne while they nibble on bite-sized hors d'oeuvre and survey the passing shoppers.
Very close to Dallmayr is the store called Manufactum. Their advertising slogan "Es gibt sie noch, die Guten Dinge" translates to "The good things in life still exist". Calling Manufactum a mere "store" seems wrong, the word "Emporium" is more fitting. A treasure trove of well made, almost forgotten items such as Coccoina glue, which upon opening wafts the scent of almonds instead of nose-wrinkling chemicals. For anyone who loves stationary, take an extra suitcase as you may well spend quite some time there.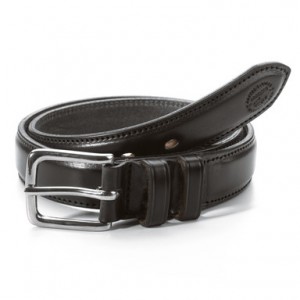 Or take a look at the McRostie belts – you might baulk at the price tag, but my husband bought one of these belts from Mr McRostie himself, in his workshop near Glasgow over 10 years ago and it still looks as good as new.
Manufactum does have a UK online store, but they only carry a small selection of the available stock so if you are in Munich,  it is well worth a trip to the store.
If you can pull yourselves away from these temples of quality goods, wander past the Rathaus, skirt the Frauenkirche and check out the Viktualien Markt, a fragrant farmers' market, with both local and international produce. On the other side of the Viktualien Markt is a restaurant to warm the hearts of expats abroad. The Victorian House was opened in 2001 and swiftly became a well-loved place for anglophiles and expats to sup tea and scoff scones with clotted cream.  From breakfast through lunch, afternoon tea and on to dinner, the British specialities are enjoyed in a comfortable and cosy atmosphere. The Victorian House concept was so successful that they have cafés dotted around Munich.
One of these is in the trendy Fünf Höfen. Made up of five connecting courtyards, the quarter is home to upmarket cafés, bistros and shops. Wander through the courtyards, pause to browse the stationary shop, then have an Aperol Spritz in one of the bars – the bitter orange liquor mixed with prosecco is the current It-Drink in Germany. Similar in taste to Campari, but not as sour and utterly delicious, the Aperol Spritz was brought back from Northern Italy by holiday makers a few years ago and has since swept through Germany into all the cool bars.
We didn't have time to go into town this trip, but I am looking forward to visiting Munich later this year. Particularly Spring and Summer are good times to visit Munich – although I would avoid going there during the Oktoberfest unless you like massive crowds, and hundreds of drunken carousers. I have been with my husband for twenty years this year, and have not been. This year may be the year that I give it a whirl, so will blog about that later in the year.
Did we find a good restaurant that day, before we returned to Geneva? We did indeed. Görreshof Wirtshaus.
We drove towards Schwabing and when I spotted a typical German restaurant we decided to stop and have a look. What a great decision that was. I wandered in the back door of the restaurant, and found myself in a narrow hall, off which there was a small smug – more of a library than anything else. You may well wonder why my photos have a small fluffy bear featured in them. It is the Mumsnet class bear, PomBearMN, and there will be more about him in later posts.
In the main restaurant room, it all looked very traditional. The large wrap-around bar invited guests to prop themselves up and order a beer. We sat at a table by window while we waited to be served. The staff were friendly and welcoming without being too forward.
I had a yummy Rhabarberschorle – rhubarb juice with sparkling water and ordered a typical German dish of Schweinegeschnetzltes and Spätzle – sliced pork loin in a mushroom sauce with a South West German speciality – mini dumplings that are cooked in water. My husband chose a Wiener Schnitzel, with potatoes and a mixed salad. The meals took a while to arrive but were worth waiting for – well cooked, well seasoned and presented.
Not just the staff, but the restaurant dog was welcoming. It wandered around, snuffling at the feet of all the guests. A few of the guests bent to pet the dog, some calling it by name, giving the impression that the restaurant had a good local standing. Alongside the dish of the day, many of the meals were available as a small portion, which gave us reason to suppose that the local senior citizens took full advantage of this offer to have lunch there regularly.
We had just finished eating our delicious meals when an elderly woman came in and sat at the table next to us. She was greeted by name by the staff, and her "usual" glass of water was brought without her having to order it. She stood next to her table and spoke to one of the young men who were serving. I saw her gesticulate, pointing to her hands then watched as the waiter opened her coat – her hands were so cold and gnarled that she could not undo
the buttons.
Every member of staff took a moment to speak to the woman, and when her meal arrived, the waiter cut up her schnitzel for her. Not that she ate much of the Schnitzel, because the dog appeared and obviously knew that she had a soft heart.
We really loved the atmosphere of the restaurant, the familiar and friendly way the locals and the staff interacted. It was so totally different from the chic big city vibe that many Munich restaurants offer, but that is the great thing about Munich – there is room for both of these concepts and much more.
So stray a bit from the well worn tourist trails and find the real Munich. You will not be disappointed.